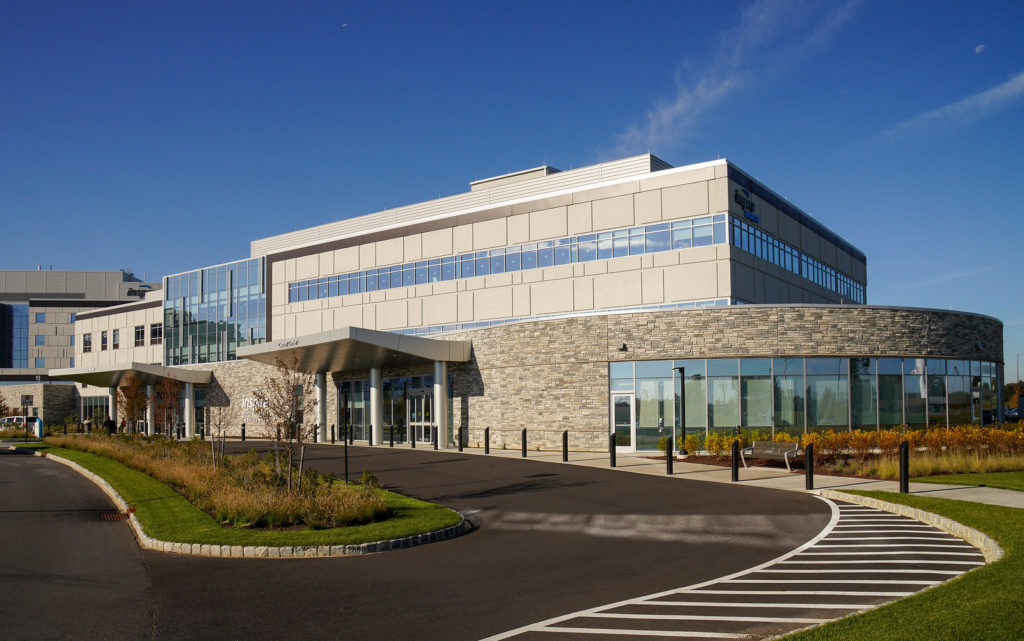 Mullica Hill, NJ, – The leading-edge Cancer Center at Inspira Medical Center Mullica Hill, part of Inspira Health, has earned three-year re-accreditation from The Commission on Cancer (CoC), a quality program of the American College of Surgeons (ACS). The cancer center at Inspira Medical Center Vineland is also accredited by the CoC. To earn voluntary CoC accreditation, a cancer program must meet 34 CoC quality care standards, be evaluated every three years through a survey process, and maintain levels of excellence in the delivery of comprehensive patient-centered care. 
As a CoC-accredited cancer center, Inspira Medical Center Mullica Hill takes a multidisciplinary approach to treating cancer as a complex group of diseases that requires consultation among surgeons, medical and radiation oncologists, diagnostic radiologists, pathologists, and other cancer specialists. This multidisciplinary partnership results in improved patient care.
"I am very proud of the efforts of all of those involved in achieving another three years of accreditation by the American College of Surgeons Commission on Cancer," said Dr. Carl J. Minniti Jr., Chairman, Cancer Committee at Inspira Medical Center Mullica Hill. "There are many components to the process and it is very clear that the members of our Cancer Committee and Cancer Program worked diligently to achieve the honor, which benefits our institution, but most of all benefits the patients that we serve."
The Commission on Cancer is a consortium of professional organizations dedicated to improving survival and the quality of life for cancer patients by setting standards which promote cancer prevention, research, education, and the monitoring of comprehensive quality measures, assuring that patients are receiving the best cancer care available.
The CoC Accreditation Program provides the framework for cancer programs to improve their quality of care by focusing on the full spectrum of cancer care including: prevention, early diagnosis, cancer staging, optimal treatment, rehabilitation, life-long follow-up for recurrent disease, and end-of-life care. Accredited facilities also provide access to information on clinical trials and new treatments, genetic counseling, and patient centered services including psycho-social support, patient navigation, and survivorship care planning.
"The American College of Surgeons' accreditation process includes a rigorous examination of all aspects of a cancer program," said Erev Tubb, M.D., FACP, medical director of Cancer Services at Inspira Medical Center Mullica Hill. "Our patients, as well as members of our community, can be confident that our program has met or exceeded the high standards for quality, safety and support set by the ACoS."
Like all CoC-accredited facilities, the Cancer Center at Mullica Hill maintains a cancer registry and contributes data to the National Cancer Data Base (NCDB). This nationwide oncology outcomes database is the largest clinical disease registry in the world. Data on all types of cancer are tracked and analyzed through the NCDB and used to explore trends in cancer care. CoC-accredited cancer centers, in turn, have access to information derived from this type of data analysis, which is used to create national, regional, and state benchmark reports. These reports help CoC facilities with their quality improvement efforts.
The American Cancer Society estimates that 1.9 million new cancer cases are expected to be diagnosed in 2021. There are currently more than 1,500 CoC-accredited cancer programs in the U.S. and Puerto Rico, CoC-accredited facilities diagnose and/or treat more than 70 percent of all newly diagnosed patients with cancer. When cancer patients choose to seek care locally at a CoC-accredited cancer center, they are gaining access to comprehensive, state-of-the-art cancer care close to home.
About Inspira Health
Inspira Health is a charitable nonprofit health care organization and a regional leader in physician training, with approximately 160 medical residents and fellows in 10 nationally accredited specialty programs. The system, which traces its roots to 1899, comprises three hospitals, two comprehensive cancer centers, several multi-specialty health centers and a total of more than 150 access points. These include urgent care; outpatient imaging and rehabilitation; sleep medicine labs; cardiac testing facilities; digestive health and wound care centers; home care and hospice; and more than 35 primary and specialty physician practices in Gloucester, Cumberland, Salem, Camden and Atlantic counties.
Together with its medical staff of more than 1,300 physicians and other care providers, as well as more than 6,200 employees, Inspira Health provides evidence-based care to help each patient achieve the best possible outcome. Accredited by DNV Healthcare, the system's clinical and support staffs are focused on providing quality care in a safe environment. For more information about Inspira Health, visit www.InspiraHealthNetwork.org or call 1-800-INSPIRA.
About Commission on Cancer of the American College of Surgeons
Established in 1922 by the American College of Surgeons, the CoC is a consortium of professional organizations dedicated to improving patient outcomes and quality of life for cancer patients through standard-setting, prevention, research, education, and the monitoring of comprehensive, quality care.  Its membership includes Fellows of the American College of Surgeons. For more information, visit: www.facs.org/cancer